To the main
How it works?
5 simple steps for a perfect exchange
step 1
Select the pair
Select the pair you want to exchange in the Сreate exchange block on the home page of our changee.com service. Select the coin you want to exchange in the You send field. Select the coin you want to exchange for in the You Receive field and click on the Start Exchange button.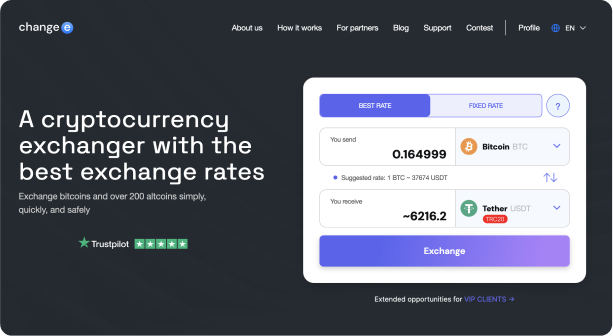 step 2
Enter exchange details
In the next step, enter the destination address. Please take note of the order indicator you'll get. It's essential because this indicator is necessary to contact technical support if you have any problems. Read carefully the Terms of Use and Privacy Policy. If you agree with them, put a tick in the right place. Next, check all the data you've entered. Then go to the next step and click on Start a transaction.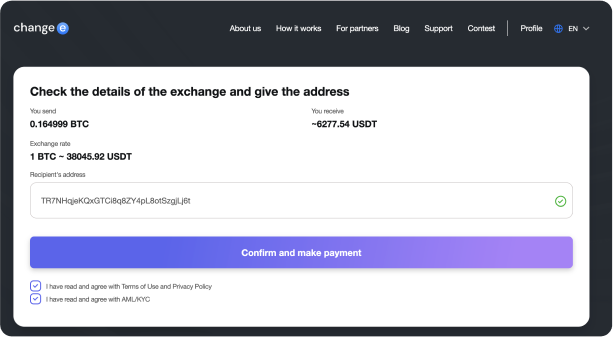 step 3
Deposit
At this point, your application has been created. You'll see the wallet address on a new page. You need to send to this address the cryptocurrency you want to exchange. The provided address will be fixed for this request within 6 hours. You have to send the funds before this time expires. After 6 hours, the address is removed from the reserve, and the application is reset. So if you sent funds after this time, please contact our technical support to solve the problem. Never re-send your funds to the address received within one application.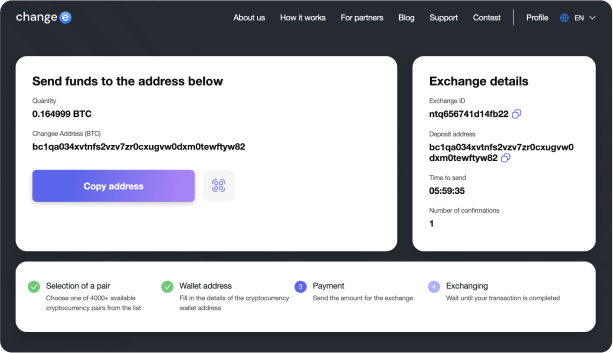 step 4
Exchange process
As soon as the system receives your cryptocurrency, it will automatically exchange it using the liquidity of cryptocurrency exchanges and instantly send it to the destination you specified. As all exchanges are made by the order book, our service doesn't fix the exchange rate. The service calculator shows the expected rate. Also, this rate doesn't take into account withdrawal fees from cryptocurrency exchanges. Therefore, due to the high volatility of the cryptocurrency market, you may get more or fewer funds than shown in the calculator.
Please note that orders are processed automatically and only on our service website.
The approximate exchange time is 10-30 minutes, but in some cases, the exchange can be processed longer due to the load of the network.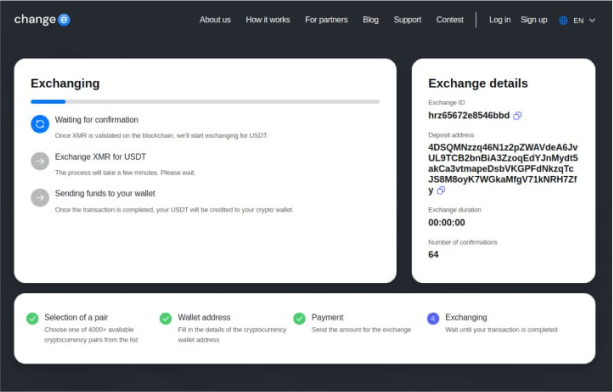 step 5
Exchange is complete
That's all! Congratulations! You have successfully exchanged your funds. If you still have questions or suggestions, feel free to contact our support. We are always glad to help you.

In addition, if you leave feedback on our service, you can get a reward. You can ask our technical support operator for details.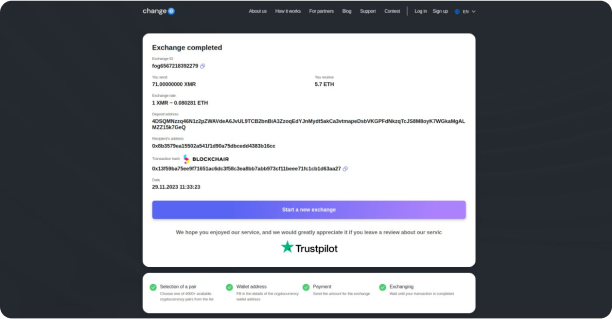 What crypto would you like to exchange today? Start exchange